Wild Bill's Craft Beverage Co.
Wild Bill's Craft Beverages is a company of artisans, dedicated to the production of artisanal craft beverages and snacks. The producers of Wild Bill's Craft Beverages are passionate about bringing their customers back to simpler days when life was simpler and people enjoyed simple pleasures. They believe that great taste is an art form, and they strive to create beverages and snacks that are not only delicious but also make you feel as though you're enjoying something truly special.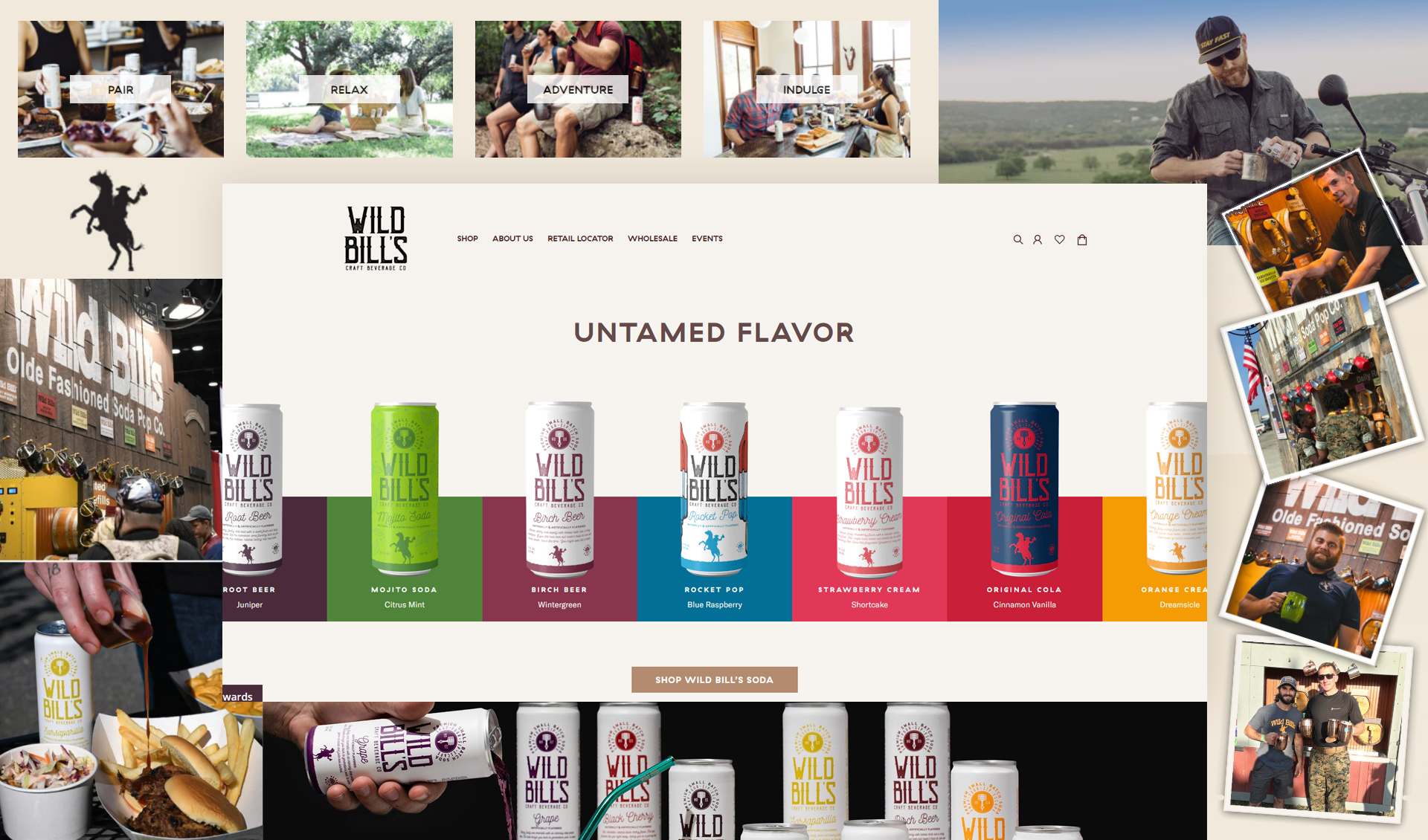 Project Objective
Wild Bill's Craft Beverages is an artisanal distillery, specializing in high-quality craft cocktails made from locally sourced ingredients. They have been operating since 2002 and have a long history of crafting delicious spirits.
Webinopoly was tasked with redesigning their website, a process that involved migrating their Magento-based site to Shopify Plus. The project had a tight timeline, which meant that we had to make use of our extensive experience with Shopify Plus migrations.
It was our goal to maintain the integrity and usability of their existing site while also providing a more modern, mobile-friendly user experience.
This project was a great example of how Webinopoly can help businesses transition from legacy platforms to Shopify Plus.
When we started the project, there were two main goals: Migrate the site to Shopify Plus and make it mobile-friendly Provide a more modern user experience that highlights its products and services (and makes it easier for customers to find what they're looking for)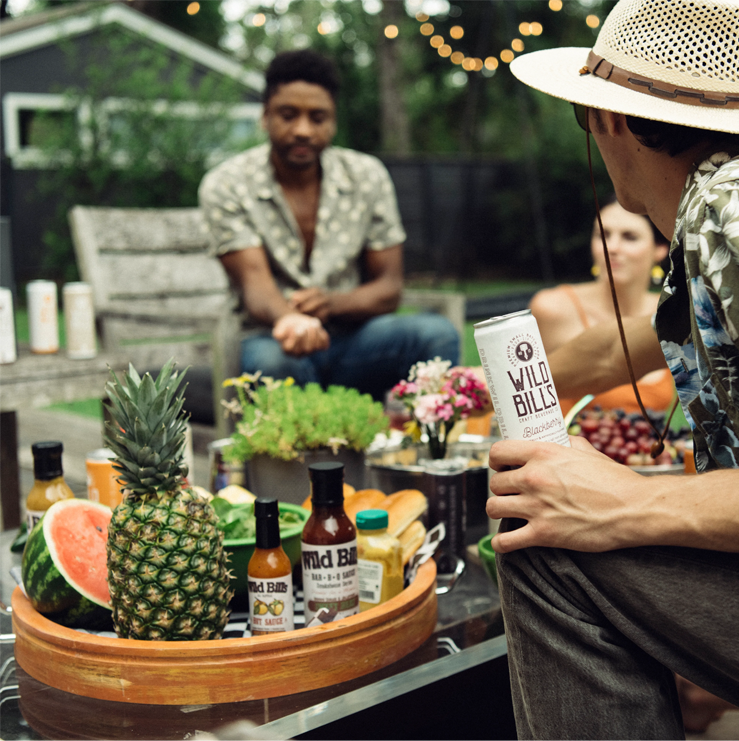 The Challenges
Encapsulating the Brand Image
The main challenge in redesigning the Wild Bill's Craft Beverages website was encapsulating the brand image in all of the different sections of the site, from the home page to product pages.
Wild Bill's Craft Beverages wanted to be able to showcase their products in a way that reflected their brand story and values, which are rooted in their love for nature and community. They also wanted to make sure that each section of the site could be easily navigated by users, who will be learning about the company's products.
Creating An Interactive and Fun But Simple User Experience One of the biggest challenges that we faced in this project was creating an interactive and fun but simple user experience. The website has a lot of information for customers to digest, and we needed to make sure that it was as easy as possible for them to find what they were looking for.
We had to make sure that the website was easy for customers to find what they were looking for, but at the same time, we wanted it to be engaging and fun. We needed their customers to feel like they were part of a community where they could access anything they needed in an instant.
The Services We Delivered
Copywriting
Graphic design
Web development
ERP system integration
Magento to Shopify Plus migration
Custom website redesign
Testing
Training
Unlimited revisions
Content strategizing
Custom theme development
The Results
+65% increase in conversion rates
-10% bounce rates
+20% order value
Homepage
Wild Bill's Craft Beverages Co has a new look and feel that's fresh, fun, and modern.
The website redesign focuses on the company's core values: customer service, quality, and consistency. The site is designed to help customers find what they need quickly and easily.
The website redesign focuses on the company's core values: customer service, quality, and consistency. The site is designed to help customers find what they need quickly and easily.
The company wanted to have an easy-to-use, intuitive interface that was able to be customized based on their customers' needs. They wanted their website to be mobile-friendly as well as easy for customers to navigate with ease.
The website is designed to be easy to navigate, with a clean and simple interface. The company wanted the website to reflect their brand and how they want customers to feel when they visit it. They wanted their new website to be more mobile-friendly so that customers can find what they need easily from anywhere.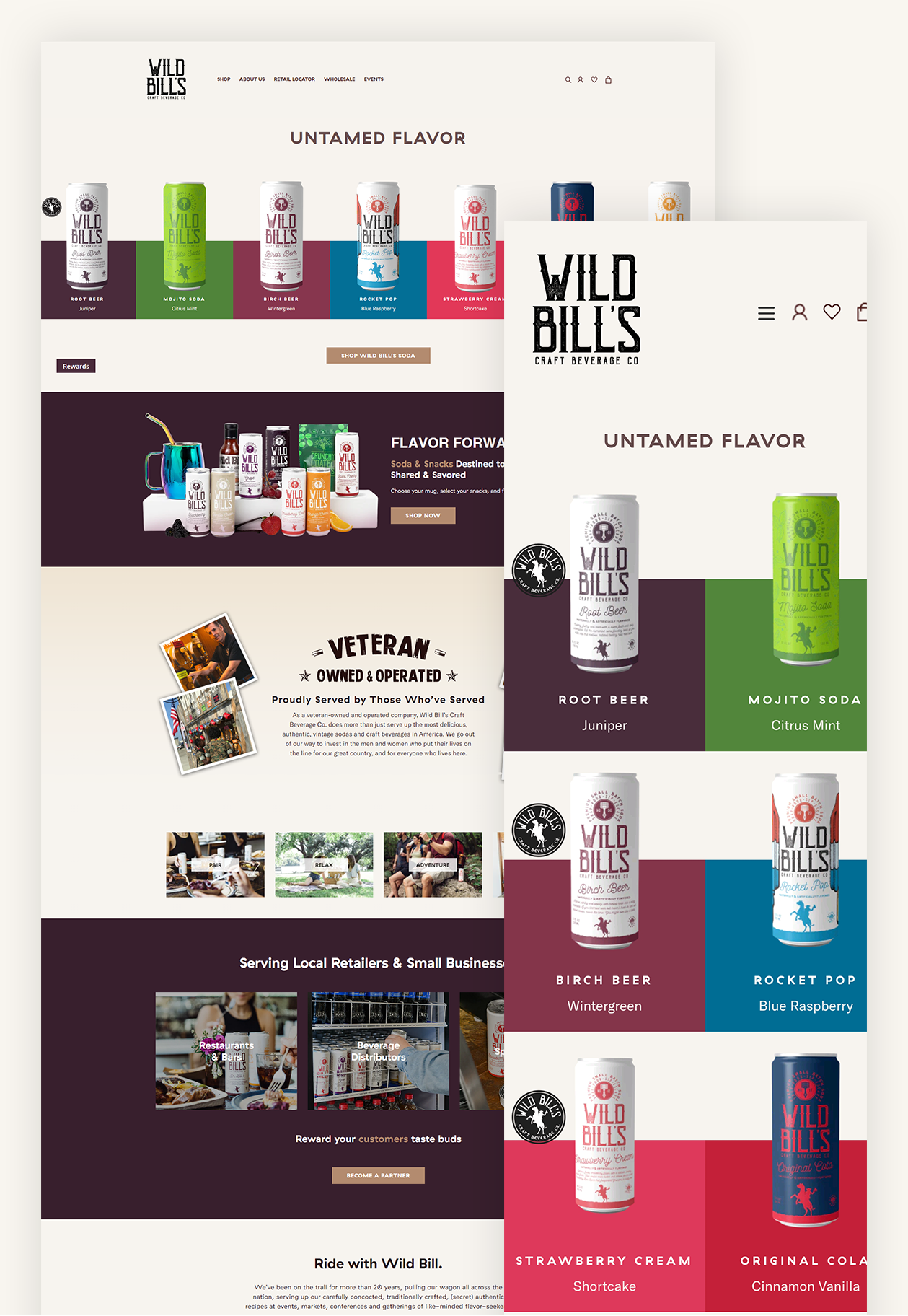 About Wild Bill's
The About Us page of the Wild Bill's Craft Beverages Co website is a great place to learn more about the company and its history. The site is simple, but it's also aesthetically pleasing, with a dark background and white text that makes it easy to read.
The first thing you'll notice on this page are images of Wild Bill's customers and founders.
The rest of the page contains information about what Wild Bill's Craft Beverages Co does, including brewing craft beer with local ingredients, as well as information about each member of their team.
Ready to Take the Leap?
It's time to take your Shopify store to the next level.
At Webinopoly, we know that customer satisfaction is the ultimate goal. So we partner with companies like yours to create a custom-tailored experience and don't stop until we achieve the best results.
Get in touch with our experts today to take advantage of your Shopify store's full potential.
Product Page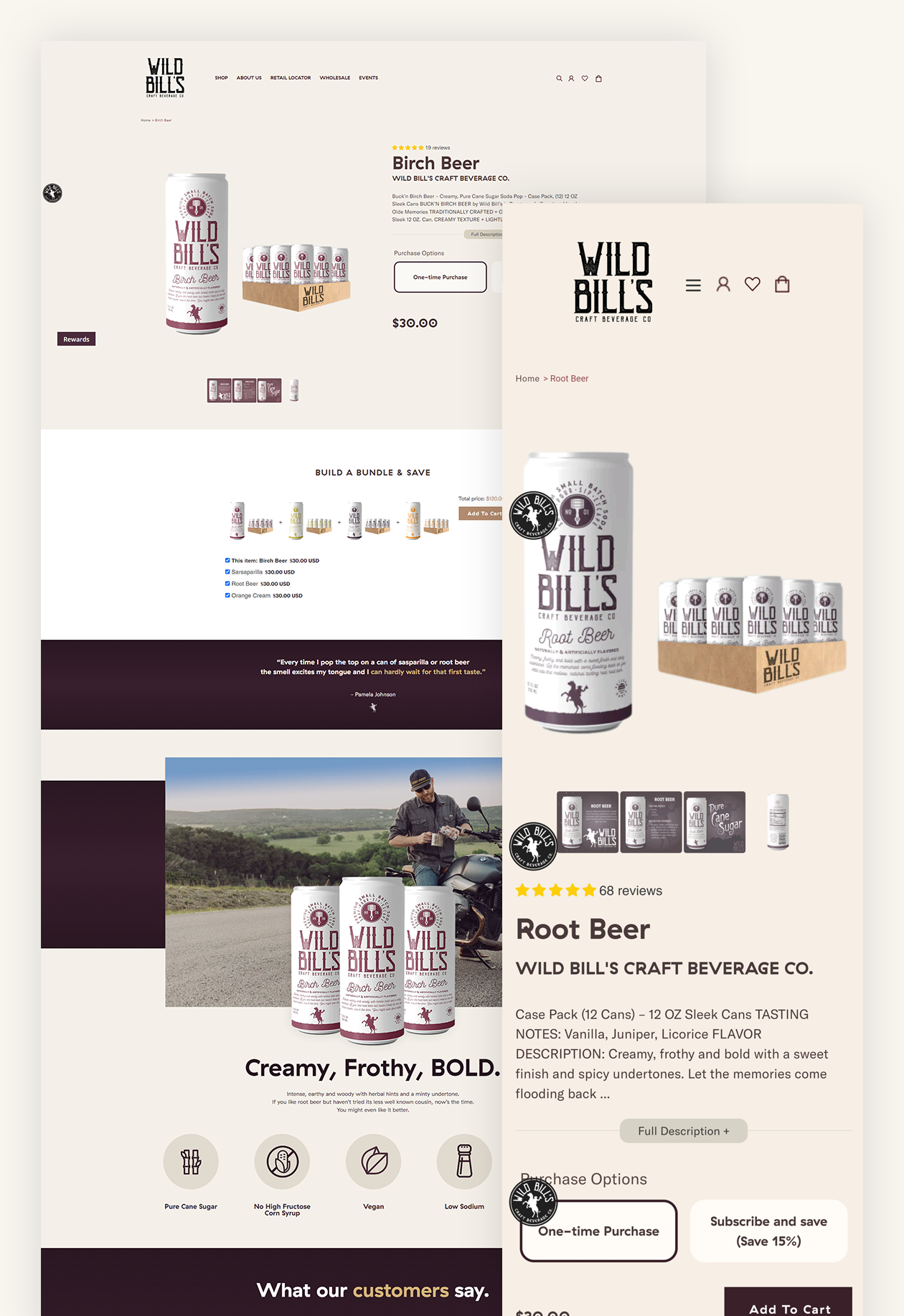 Quick and Convenient Checkout
The checkout process on the Wild Bill's Craft Beverages Co website is quick and easy, thanks to our built-in checkout solution. It allows you to complete your order without leaving the page, reducing the time it takes to get from A to B in the process of completing your order.
This checkout also allows customers to check out as a guest or register for an account so that they don't have to enter your information every time they place an order.
Upsells
Shoppers who scroll to the bottom of a product page will be greeted with an array of related products; these are determined by shopping activity and items in their cart, so shoppers get a more tailored experience.
This is a great way to help shoppers find products that might not be on their radar, but it's also a big opportunity for the brand to increase conversions by making sure their products are featured.