LET US TAKE
YOUR WEBSITE
TO THE NEXT
LEVEL
At Webinopoly we specialize in designing websites and web applications that sell. As a premier website design and development company in the US, we have the expertise, knowledge, resources, and tools to take your website to the next level.
Webinopoly provides affordable web design to clients all over the world. Our team of expert Android application developers, iPhone application developers, and expert web designers provides responsive services to local, national, and international clients.
Based in Houston, Webinopoly is proud to be a one-stop-shop for individuals and businesses in search of high quality, responsive web design and app development for both iPhone and Android operating systems. We know what it takes to create a reputable, trusted online and phone application presence and provide our clients with only the best available.
Professionals, entrepreneurs, and businesses large and small must have organized efficient websites with mobile capabilities. Webinopoly knows the value of these assets and provides impeccable web design as well as iPhone and Android app development to meet the growing needs of clients in this competitive market.
At Webinopoly, providing the best quality of digital services and solutions to our clients is our No. 1 priority. As the premier digital agency in Houston, TX USA we firmly believe that in order to effectively guarantee quality, we must adhere to the highest degree of quality related processes, rules, and standards – a notion that forms the crux of Webinopoly's QA philosophy.
To meet our credo, and offer complete client satisfaction at every conceivable level, we have:
Hired quality engineers with enough clout to influence designers, developers, and managers to respect their recommendations. We learned early on that our company's continued growth and success will depend entirely on making smart choices and hiring the best; That's why we have one of the finest teams of web designers, developers, marketers and QA engineers in the industry. Click Here To Meet The Team.
Set up cross functional teams to iron out communication barriers between different departments, and improve coordination.
Encouraged seniro engineers to define the roles and responsibilities of indibiduals to understand the project in wider context.
Developed generic QA arrangements and schedules to create templates for quick lookups.
Created an environment where the QA team is able tp analyze projects and developments in isolation and develop the most efficient and effective QA strategies for individual projects.
Established effective QA rules and procedures to ensure that all our sites are 100 per cent compliance with W3C'S web content accessibility guidelines (WCAG) 2.0.
Communicated QA processes to every individual, with an eye to institutionalise and continuously improve our standards.
Our QA assets not only highlight problems, but also help our clients find areas for improvement – opportunities to better match "real world" behaviours and maximize usability and user experience factors of their websites. As a team, we are dedicated to complete client satisfaction.
From analyzing quality benchmarks, to evaluating architectural designs, scheduling sequences, file transfers protocols, and checking the responsiveness of a website design – a rigorous process that involves testing a website on a myriad of platforms such as smart phones, tablets, and multiple browsers/operating systems, we do it all to give our clients quality products that stand the test of time.
Call or contact us to learn more about our quality solutions and services.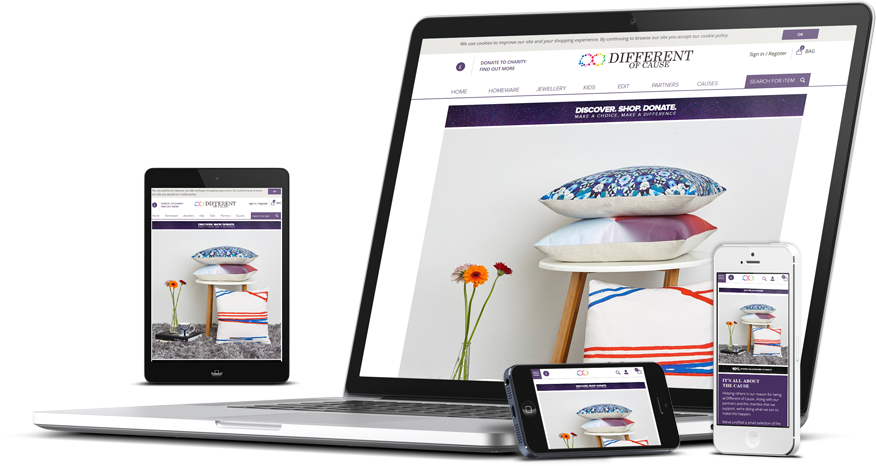 RESPONSIVE

DESIGN
Responsive web design (RWD) is a web design approach aimed at crafting sites to provide an optimal viewing experience—easy reading and navigation with a minimum of resizing, panning, and scrolling—across a wide range of devices (from desktop computer monitors to mobile phones.
The best way in which you can adapt to this change is by opting for responsive design. In the marketing world, responsive design has become the latest buzz. Several webmasters have praised the fact that it provides an excellent user experience for mobile devices. We at Webinopoly offer the service of responsive designing for the convenience of website owners. Below are some of the reasons as to why businesses should update the website of their company to make the best of responsive design.
Before people opted for responsive designing, if they wanted to give their users a mobile experience, they had to develop a separate set of templates for every device. This would considerably add to the cost and usually people do not want to bear these costs. When you opt for responsive design, it customizes your website to fit the screen size of all devices. This indicates that you just have to develop just one website hence reducing the costs.
With the convenience of designing and building a single website also helps you save time. It means fewer approvals, meetings and also saves you the hassle of going through the process again and again every time a new device is launched.
Responsive design is still in the developmental stages and there are chances that your competitors have still not executed it. When you choose responsive design to suit all devices optimally it will leave all your competitors stunned. Your visitors are promised with a better user experience and are likely to take action.
When you opt for responsive design, your site is set to stay active for a longer time. Your website will be user friendly even during the coming times.
If you provide your visitors with a good user experience, they are more likely to take action. Making use of responsive design implies that you are giving users an experience that is sans all the hassles hence increasing the conversions.
WEB PRODUCTION PROCESS
Below is a diagram that outlines the web site design process.
(The process may change according to client requirements)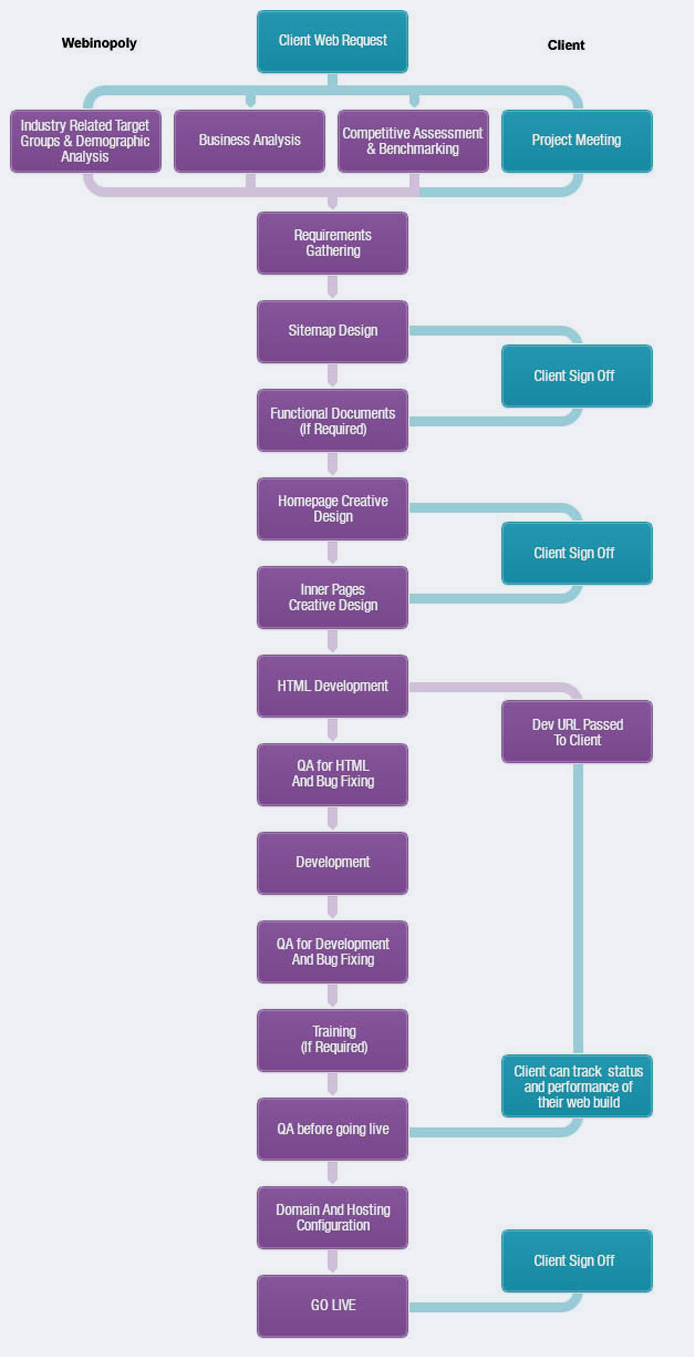 WEB CONTENT MANAGMENT SYSTEMS
Keep your site's content updated with ultimate ease using the latest content management systems. For the very best in CMS websites, turn to our expert team at Webinopoly. Our staff perform WordPress web design, Joomla web design, and Drupal web design services to clients all over the world in search of a professional, smooth-operating ecommerce website design or general CMS website for their business.
For those desiring a Magento ecommerce web design, we have professional Magento developers on staff as well. At Webinopoly we're truly invested in your business and your CMS web design needs. With decades of experience and the most up-to-date knowledge, our WordPress professional developers can create a seamless WordPress website that you can update yourself!
Our Joomla professional developers have received the highest level of training to ensure your satisfaction with your web design and functionality. We also staff only the most qualified Drupal professional developers as technology changes almost daily!
When you're ready for a professional CMS website, trust the web design experts at Webinopoly.