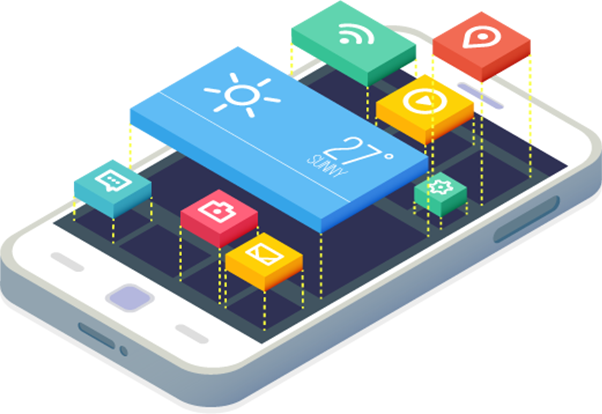 MOBILE APPS DESIGN & DEVELOPMENT
Mobile communications have developed rapidly with the maturity of the smartphone processor, and moveable communication devices are now a "front of mind and palm of hand" concern for most people. The power of useable information and actionable process is now a developed reality which has an undeniable inherent benefit for businesses that are looking for more ways to engage with a selected target market in a cost effective and beneficial manner.

Webinopoly has been in the app development space since the iOS and Android operating systems launched! With the help of our highly qualified & experienced team, we have developed more than 150 apps for iPhone, iPad & Android devices. Our mobile application developers, designers, program managers and business analysts are experts in converting customer's ideas into incredible apps with the best quality. We skilfully achieve the right balance between client's ideas, mobile platform standards, user experience and expectations, and handle with care all technical challenges and possibilities in the project.
CONSULTING
Webinopoly offers our clients a special level of service that extends far beyond development of a project. Our preference is to be involved with your projects as early as possible, serving our role as advisor and mobile expert to help guide a project to its best potential. We offer these consulting roles which we define as Strategy & Design.
STRATEGY
It all begins with the right questions. What are you hoping to achieve with the first release version? How does your project relate to the trends in the marketplace? What is the most likely situation a user would engage with your App? We want to learn, listen and understand everything we can about your market, your perceptions and goals. All of this information serves as the foundation for our own analysis and dissection that evolves into a strategic plan and recommendation plan.
Strategy work is performed by one of our Sr. Strategists and Designers. The process begins with a Discovery session that can be held over the phone, via Skype or in Person at our Dallas Lab. These sessions are a dynamic and engaging experience designed to capture as much insight and scope as possible at the beginning of the project. Fueled by Dry Erase markers and Diet Coke, the Discovery will yield a set of key findings and parameters that will frame the analysis and strategy work to be done following the session. Our team will then prepare and deliver a preliminary Recommendations Plan for all to review. With notes and feedback to this, a final Plan is issued along with any related quotes for Development.
DESIGN
We pride ourselves in our commitment to the design of mobile projects in the broadest definition of the word. Design begins with the simple question of what the project does and continues until the selection of screenshots used to market the app are selected. Everything in between can benefit from ongoing attention to design.
ARCHITECTURE
The initial design of how an App looks and feels during use is considered the Art Direction phase. Here, Webinopoly's Design Lab develops sample screens that capture the overall style and character of the project. Within a few rounds of concepts and reviews, our team can reach a consensus with our client on the overall look of the App based on the sample screens that have been fully designed.
ART DIRECTION
The initial Design of how an App looks and feels to use is considered the Art Direction phase. Here, Webinopoly's Design Lab develops sample screens that capture the overall style and character of the project. Within a few rounds of concepts and reviews, our team and client can reach a consensus on the overall look of the App based on the sample screens which have been fully designed.
U/I DESIGN
Based on the Art Direction, a complete set of User Interface (U/I) assets are created. With this set of designs, all screens and components for the app will be defined and all master art completed. At the end of the U/I Design phase, a full library of screens is provided for client approval.
SPECIFICATIONS
PACKAGE
Merging the Architecture, Art Direction and U/I Designs, a Specifications Package is completed that includes all of the items in final form along with any special notes and definitions that may be needed for clarification during development. This package serves as the complete Design package our Design Lab can provide for any project.
IOS DEVELOPMENT:
Besides the solid experience in iPhone, iPad, iPod & iWatch app development, our software engineers and application developers have extensive experience and a detailed understanding of Apple platforms and their various components including: the iPhone SDK, iPad, iWatch, Cocoa Touch / Objective C, Xcode IDE, Interface Builder, OpenGL ES, Open AL, Core Audio, Core Animation, Core Graphics, WebKit Programming, Accelerometer, GPS and Core Location Framework.

Understanding only the technical part of an App is not enough to make an App successful. This is where our business analysts step in to ensure that we understand the iPhone App in detail both technically and in business so that we can help deliver a winning iPhone app every time.

Several of our self-published mobile applications have been in the App Store's top list and have earned us commercial success besides the reputation. This experience has been extremely valuable for our mobile application developers and making us experts at understanding what works and what doesn't. We ensure that as a client you get the most benefit from our experience, knowledge, skill, and understanding of the mobile development space. And we'll work with you on each step from conceptualization to finish, delivering a successful iOS mobile app.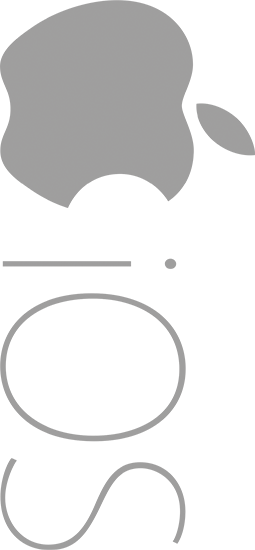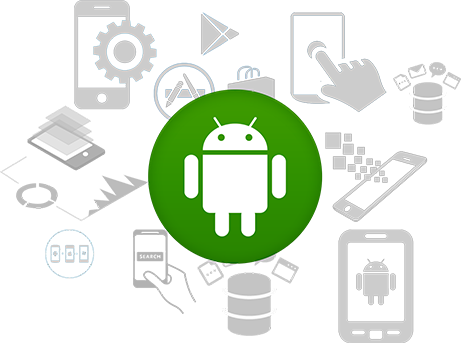 ANDROID DEVELOPMENT:
Here at Webinopoly, we understand the complexities involved in making any Android application development successful. As your partner, we offer free consultation and advice to help generate unique, sexy, and professional mobile apps that can meet your expectations and generate you revenue. Webinopoly has successfully completed numerous mobile application development projects with the help of our expert, professional and well-trained engineers. With more than 6 years of experience in the mobile application development space, our Android developers are well conversant in: Android Software Development Kit (SDK), OpenGL, 3D graphics, Android Media APIs, Location–based Service APIs, Wi–Fi APIs, Android Security Architecture and other technologies required to build best-in-class Android apps. Our experience of the Android Market Place coupled with our talented designers and extremely knowledgeable Android app development team gives us the confidence to take on the toughest challenges and deliver outstanding Android apps that you will love and be proud associate with your brand.