The Bottle Haus
The Bottle Haus is an online liquor marketplace that delivers liquor straight to your doorstep. With a wide selection of wines and spirits, including craft beer and craft cocktails, The Bottle Haus is a one-stop shop for everything you need to make the perfect party. Their goal is to make sure we have the best selection possible so that you can find exactly what you're looking for when planning your next event. They also have a wide variety of beers, wines, and spirits from all over the world. They offer everything from local favorites to international favorites and even some rare finds.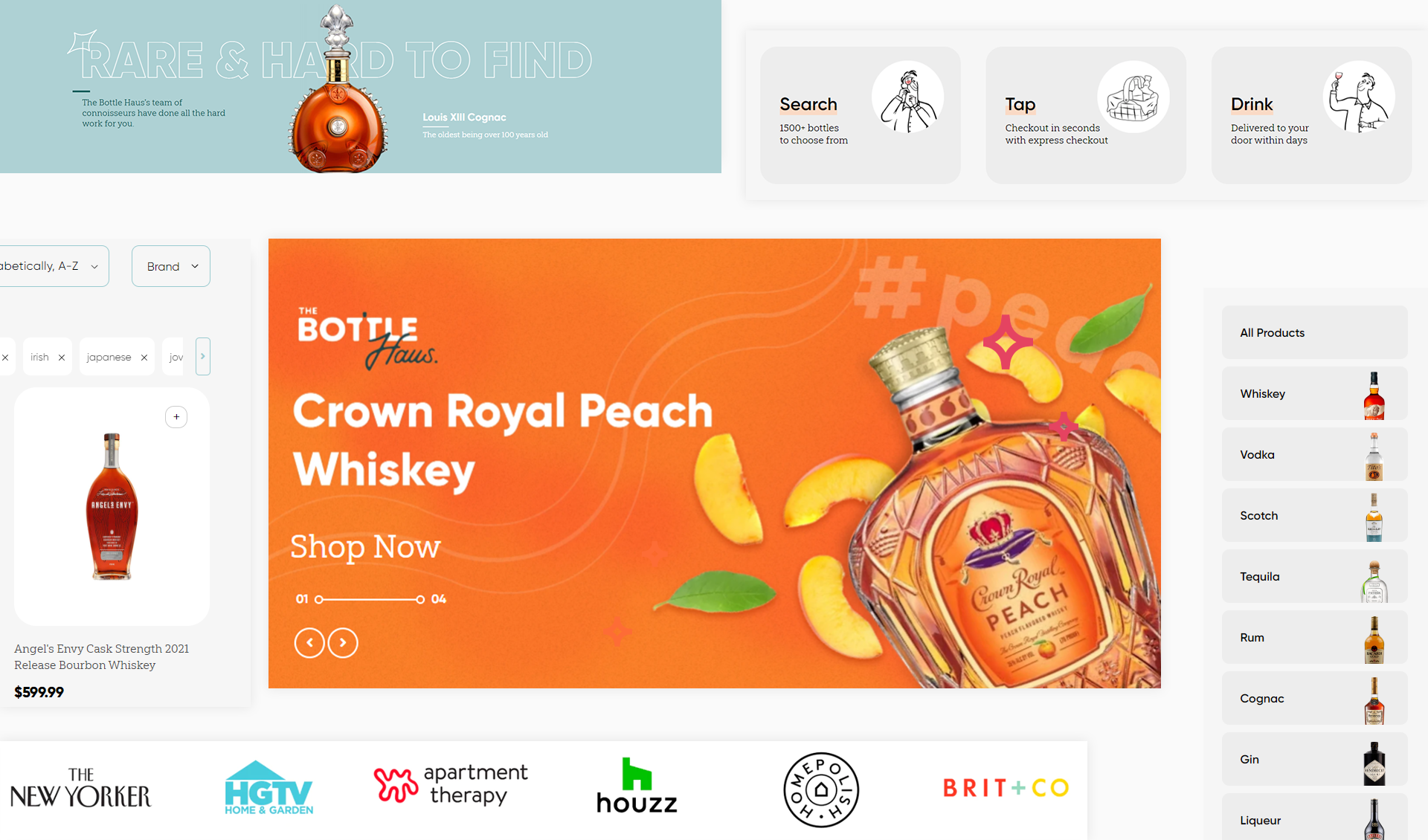 Project Objective
The Bottle Haus is an online retailer of wine, beer, and other drinks. They sell their products in bulk (or retail) and ship them to customers directly. The company had used Magento for several years, but the platform was not built to handle their needs as they grew. As such, they considered migrating to Shopify Plus or another platform.
We were asked to build the company's new website from scratch, while also integrating their large product database with an ERP system that would allow them to manage inventory and orders more efficiently.
To get started, we hosted a workshop with the Bottle Haus team to better understand their business, goals and brand. From there, we designed a new website that would be easy-to-use for customers while also being customizable for the company's internal staff.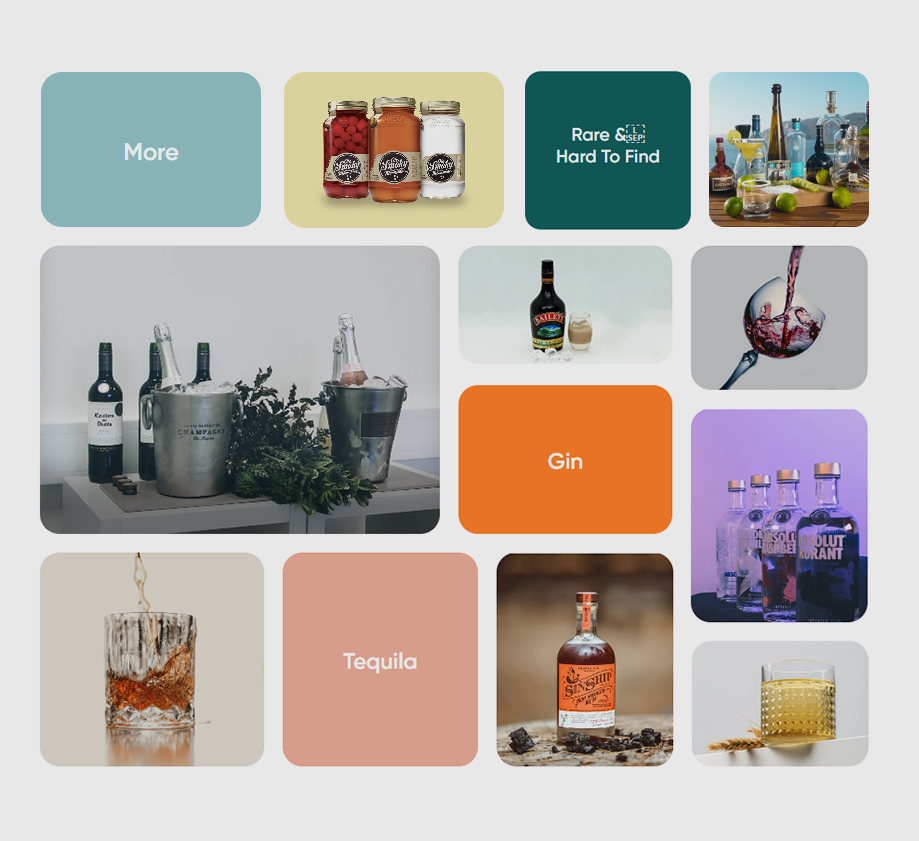 The Challenges
Building a Fun and Interactive UI From Scratch
Webinopoly was faced with a challenge when designing the client's website: how can we make it fun and interactive in line with the brand's image?
The answer was clear. Webinopoly needed to create an experience that would be engaging and entertaining, but also informative enough to encourage users to interact with other players. The solution we came up with was simple: create a game that is both fun to play and informative, while also incorporating all of the information a user could want.
This is where Webinopoly's skills as designers came into play. We created a user experience that is both intuitive and engaging. By using our knowledge of the existing brand identity and creating a game that combines the best aspects of web design, we were able to create an experience that was fun while also being informative.
Integrating to Shopify Plus
When Webinopoly was tasked with integrating our client's website to Shopify Plus, we knew that the process would be a challenge. The client had been using their own custom ecommerce solution for years, and we needed to make sure all of their customer and product information was seamlessly transferred over to Shopify Plus so they could start building their online store.
We were able to overcome this challenge using our proprietary process that could transfer both customer and product information from the old platform into the new one.
This process allowed us to work with the client's existing data in a way they were comfortable with while also providing them with an easy way of importing all of their existing data into Shopify Plus without having to worry about losing any information or having any errors occur during the process.
Integrating the ERP
When Webinopoly was tasked with integrating the ERP system into our client's new website, we knew it would be a challenge. Our client is a large company that has grown rapidly over the past few years, and it needed a system that could support its rapid expansion. We also knew that the ERP system was going to be integrated into their website, which meant that we needed to make sure both systems were compatible with each other.
The first step in our process was to understand how the ERP system worked and what its capabilities were. We then performed an analysis of how it would integrate with our client's new website and developed a plan for how we would make those two systems work together.
Next, we had to create the design for both systems so that they would be compatible with each other. We used visual mockups
The Services We Delivered
Shopify configuration
Shopify Shop 2.0 web design & development
Custom theme development & optimization
Content strategy
Figma mapping
Copywriting
Testing
Training
Unlimited revisions and support
The Results
+70% increase in conversion rates
-20% bounce rates
+15% order value
as well as code samples from both systems to ensure that there were no compatibility issues between them once they were integrated together into one system.
Finally, once everything was ready for integration, we performed tests on both systems to ensure everything worked as expected before deploying them on production servers at our client's location (which required a lot of hardware upgrades).
The Homepage
When you visit The Bottle Haus, the first thing you'll notice is the vibrant colors and fun, clean design. It's easy to navigate, but it doesn't look like a child made it. You'll find all of our products organized in easy-to-find sections that make it super simple to find what you're looking for.
Our web designers integrated a custom carousel header that showcases The Bottle Haus' products. This way, their customers can get a quick glimpse of everything they have to offer and can easily scroll through their options. The home page features their best liquor collections, including their most popular beer and wine products. The navigation bar makes it easy for customers to find what they're looking for, whether that's a particular brand or type of alcohol or even just a specific bottle size.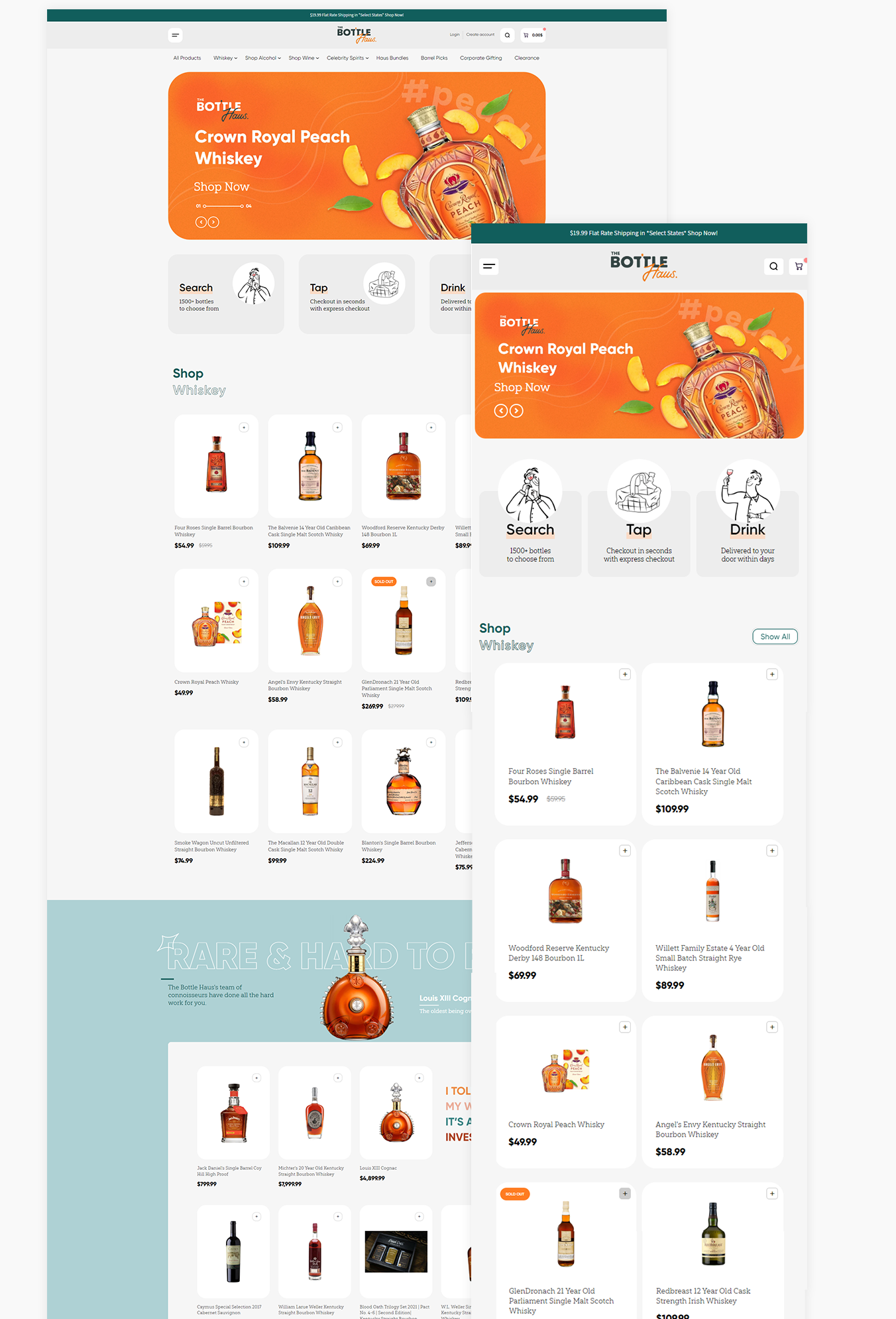 Ready to Pop the Cork?
At Webinopoly, we partner with brands like yours—and don't stop until we've achieved the best results.
We're not just here to do what you want. We're here to make sure that you're satisfied.
Because our goal is to ensure customer satisfaction, we partner with brands like yours—and don't stop until we've achieved the best results. So get in touch with our experts today!