Sourced Craft Cocktails
We all know how much fun home parties can be, especially with some alcohol. Sourced Craft Cocktails has everything you need to craft your own cocktails at home. Their team of experts can help you set up your bar at home or at work, so you can focus on what's most important—the celebration!
From a corporate event to an anniversary, or holiday party, Sourced will help tell the story of the event as a whole by adding a unique cocktail experience that helps make it memorable.
Plus, their craft cocktail kits are crafted using a very thorough process of selection, assembly, and blending to deliver your perfect taste of the moment.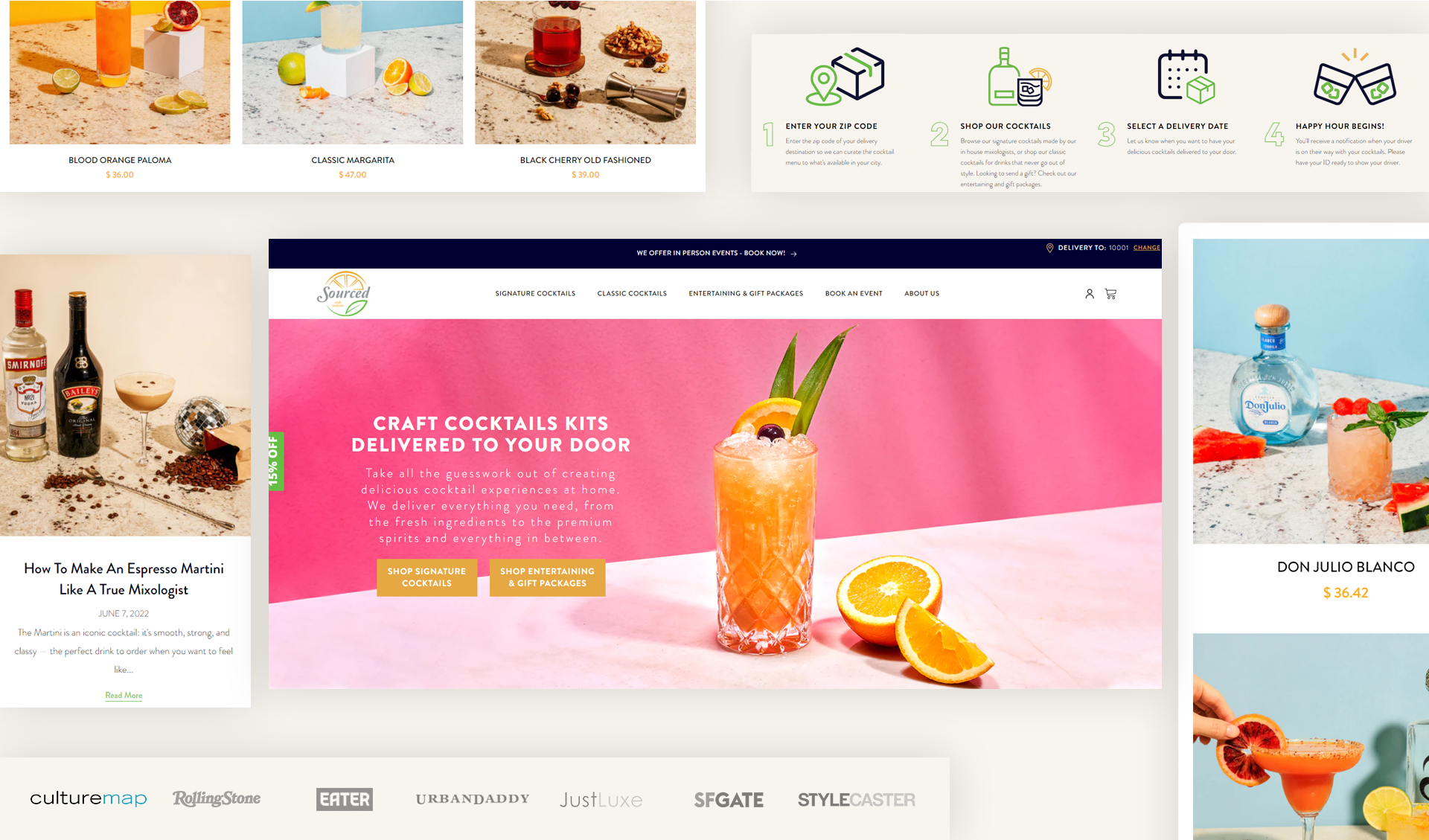 Project Objective
The Sourced Craft Cocktail, a renowned American craft cocktail delivery service, sought to create an online presence with a cutting-edge user experience. The primary objective of the website was to encourage a greater number of customers to place orders for the company's goods and services via the website. The primary task consisted of, among other things, customizing the website and each of its pages to cater to the requirements of the client, as well as developing the UI and UX.
The Challenges
Outdated website
The former website for Sourced Craft Cocktail did not sufficiently convey the standard of excellence and expertise exhibited by their business. As a result, the design team at Webinopoly was tasked with developing a new website design for Sourced Craft Cocktail that reflected the business's unique blend of laid-back and elegant tastes. In order to entice prospective customers, the design featured ample amounts of white space and clean lines, as well as appropriate applications of pops of color and stunning professional photographs of the cocktails.
Systemize operations
Additionally, the group was tasked with ensuring that the operation was smooth sailing from the very beginning to the very end. This meant that their website needed to be integrated with IP recognition in order to recognize customers' IP addresses and show them products based on their state and zip code, connect to cloud kitchens in order to have a proper order management system, and forward customers to custom checkout pages based on their states and cities, create custom corporate flows, and connect their inventory and orders with Seven Fifty and Bevmax.
Solution
Branded web design and additional capabilities
In order to overcome this challenge, Webinopoly first began by developing a fully unique and mobile-friendly website design from the ground up. This also provided customized landing pages for subscriptions and corporate workflows.
Our developers also made sure to include IP recognition capabilities, which allowed the Sourced Crafted Cocktail team to recognize their customers' IPS and recommend products based on their state and zip code.
Streamlined operations
The team at Webinopoly linked the website to cloud kitchens in order to give an order management system while also integrating inventories and orders through Seven Fifty and Bevmax. This was done in order to streamline the business' operations.
Finally, we developed personalized checkout pages for their customers that make use of the Square payment system and are based on the customers' respective states and cities.
The Services We Delivered
IP recognition capabilities and a completely unique and mobile-friendly website design
Order management system for cloud kitchens integrated
Using the Square payment gateway, redirect customers to personalized checkout pages based on their states and cities.
Customized subscription pages and corporate flows
Inventory and orders were linked with Seven Fifty and Bevmax
Results
Shopify's new online store for Sourced Craft Cocktails seamlessly blends aesthetics and usability, allowing customers to effortlessly browse solutions.
They may now take advantage of Shopify's features and its content management system (CMS). They are free to focus their efforts on building company strategies as opposed to devoting an excessive amount of time and resources on order management processes.
Since Sourced Craft Cocktails launched their online store on Shopify, they have seen a significant increase in key eCommerce KPIs.
This improvement increased conversion rates by 70%. Bounce rates went down by 20%, and order values went up by 15%.
These findings highlight both Shopify's power to navigate growth and the Webinopoly team's competence in designing conversion-focused websites.
Homepage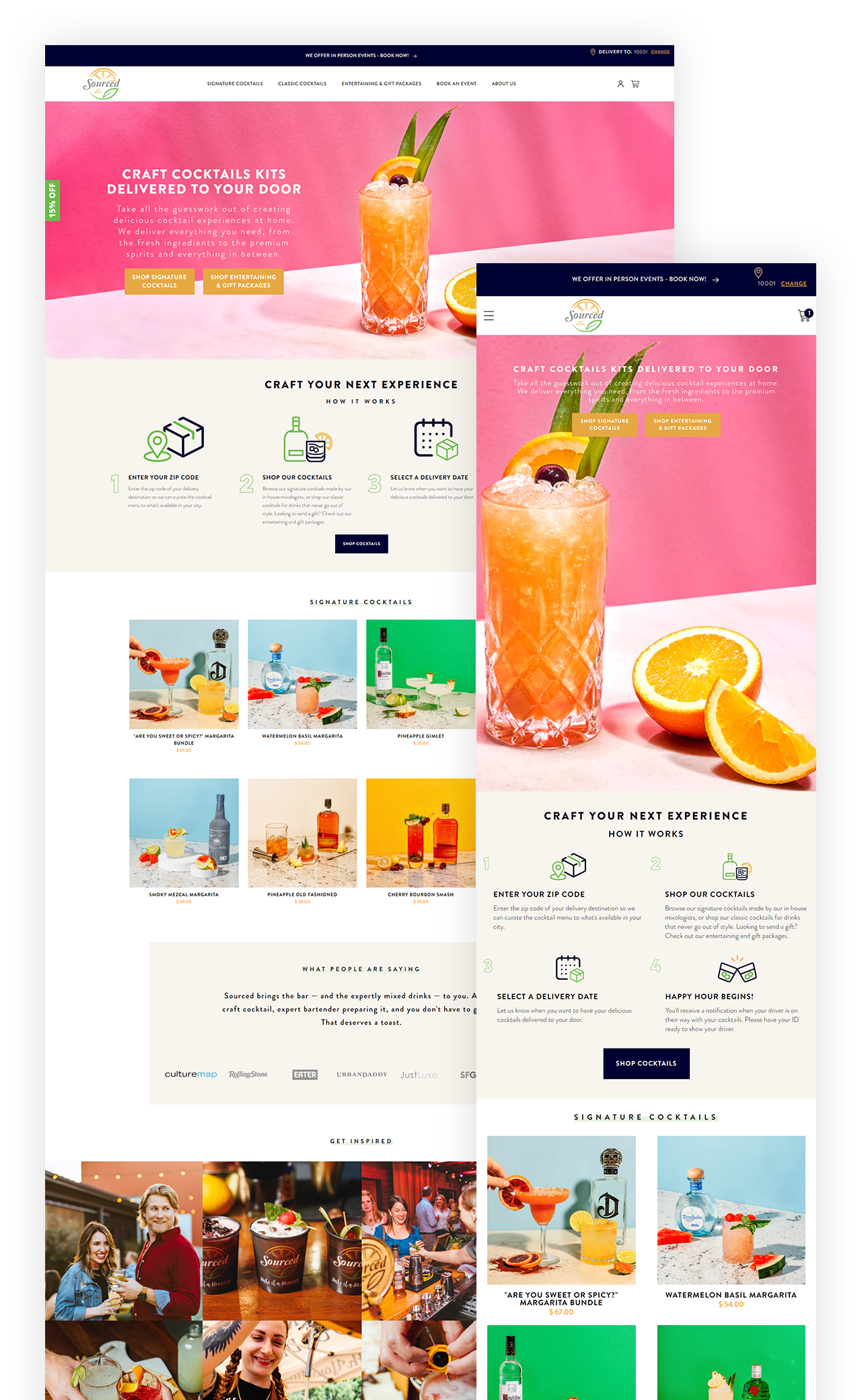 Cart Sneak Peek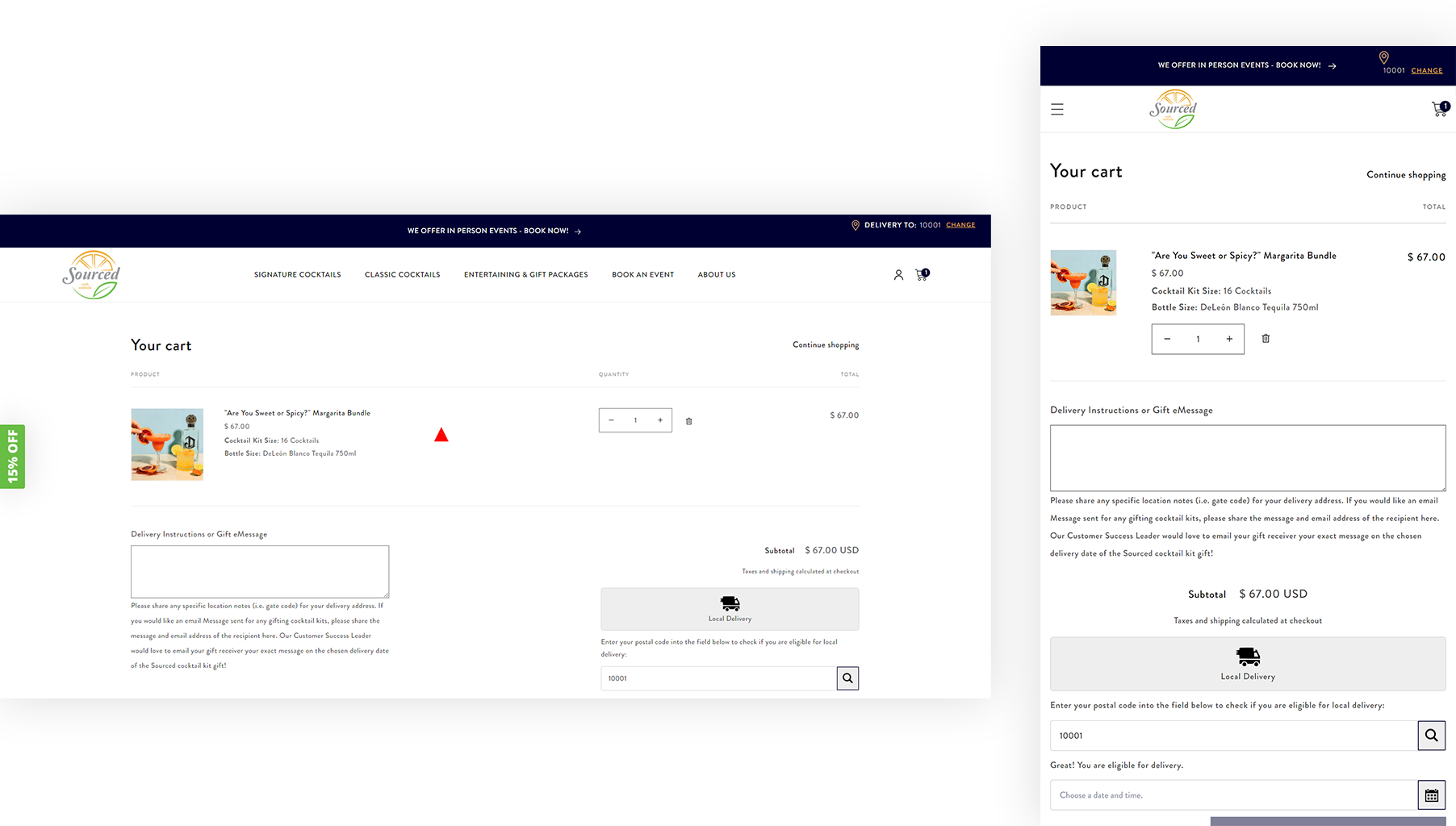 Product Pages