PSD To Shopify Conversion Services
Scale faster, build custom apps & rebrand your Store
Get the finest experience from Houston's Best Shopify Development & PSD to Shopify Conversion Company
Why we're awesome:
Excellent

180+ 5-Star Reviews
Why Webinopoly is the best PSD to Shopify Conversion Company in the US?
Team is among the Top 10 Houston Best PSD to Shopify conversion companies of 2018 with an experience of working with hundreds of successful Shopify Web Development including NBA teams, High-end Brands & more...
PSD to Shopify Conversion Services- Shopify Experts Team
Webinopoly Shopify Experts Team is a reliable PSD to Shopify Development with expertise in PSD to Shopify Theme Conversion. Our skillful developers & engineers will convert your store design to a beautify Shopify theme with responsiveness & making it SEO friendly.
Certified Expert Shopify Developers
Webinopoly is counted among the top Shopify Coding Companies worldwide with proven code standards. We sensibly layer your PSD files into fully mobile responsive HTML codes & then convert it into Shopify Liquid code using the latest techniques.
Shopify Plus Development
Webinopoly team are experts in building enterprise level e-commerce websites using Shopify Plus Packages. We have built in the last 2 years over 100+ Shopify plus websites for some of the major brands in the US, like dtlr.com, winechateau.com, beautybakerie.com, firsttactical.com, leatherup.com, and many others.
Why Webinopoly?
700+ Shopify Projects
100+ Shopify Plus Projects
50+ Shopify Developers & Designers
40+ Custom Shopify Apps
Free Unlimited Design Changes
Expert Shopify Development Agency
180+ 5-Star Reviews
See also
Webi.nopoly

noun, like Monopoly, aims for monopoly on quality in web design.
Let's Discuss
Your Project
let's connect
Check out what our clients say.
Excellent

Based on
109 reviews
Trustpilot

Six Stars out of Five! Moe and the Webinopoly team has the in-depth expertise I didn't have and needed to go to market. Highly professional- does what they say they do on time and on budget. I will gladly refer anyone to them and expect to use their services in the future. Shopify experts. Happy to refer these guys.
Tim Ransom

I have been working with Moe for several years and without hesitation, refer friends and associates to him. He has never disappointed- he is honest, effective and gets the job done on schedule. We work on the shopify platform and consider Moe as an extension of our team. We just changed themes for our website and Moe made the transition smooth as he made the modifications and tweaks to get it up and running. Highly recommend Moe and Webinopoly!
Barbara Levin

Incredible service. Extremely pleased with the results provided. Amazing customer service!
Derek

Perfect Work, I don't know if I could ever use another team to develop a website. Working with them is a real pleasure. All tasks were completed to perfection. I 100% recommend .
Natacha Mewafo

I feared Moe was promising what could not be delivered. I was wrong. He was responsive throughout the wireframe, design and development process. Even now that the site is launched, Webinopoly has been timely and spot-on in supporting our site.
Matt

Professional. Precise. Thorough. Smart. Fast. Easy to Communicate With.Moe & his team over at Webinopoly are extremely easy to work with and communicate with. They are precise, thorough, fast & their pricing is honest. I wish I'd found Webinopoly sooner - but now I'll never use another agency/developer for our Shopify Plus website(s).
Elisabeth

Unlimited Custom design

In-house developers

Built over 700+ stores

Super fast websites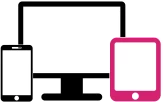 Shopify apps development
We fuse the art of sales with science.
To win at eCommerce, a seller needs both intuitive understanding of buyer behavior and application of complex mathematics. People skills can only get you so far. Numbers express exactly the how, what, when, and where of buyer behavior. It's our job to interpret these numbers using calculus and experience to answer who the customers are and why they buy. Once we define and understand the audience, we can target and sell to them with scope and precision.
We aren't freelancers. We're a team of the best Shopify eCommerce minds in the industry. Our expert full-service Shopify account managers, online marketers, UX/UI specialists, and full-stack developers will serve your needs with cohesive, data-driven strategy and unparalleled technique.
Let's Talk!
Let's Discuss Your Project
let's connect.